Lehmann Audio Linear SE
$2,199.00
Lehmann Audio Linear SE Headphone Amplifier
 0% – 3 Year Financing Available!!
Musical enjoyment at the pink of perfection. Allow yourself to be convinced of its outstanding sound quality and impressive design – because great sound never looked better!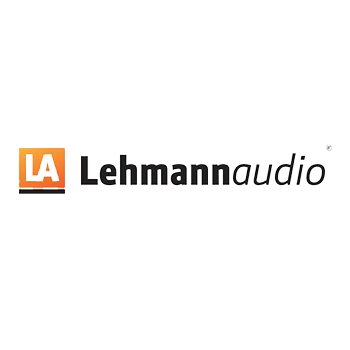 Lehmann Audio Linear SE Headphone Amplifier
 0% – 3 Year Financing Available!!
The Linear SE in its topical mk II version satisfies every wish of even the most demanding music lovers. With its exquisite components, elegant housing variations and its thoroughly revised analogue board in Low-Z Copper it sets new standards for your music experience. Allow yourself to be convinced of its outstanding sound quality and impressive design – because great sound never looked better!
Imagine closing your eyes and getting carried away by the sound of your musical treasures: the individual timbres will blend into a fascinating artistic synthesis, causing the music to sound precisely as it was recorded. Our representative headphone amplifier can bring you this unique adventure. It lets you experience the music with all your senses time and again. Everybody will envy you this gem.
"The total is more than the sum of its parts – and these are already of premium quality in the Lehmannaudio Linear SE." — i-fidelity.net
Highest quality standards in features and design
For our production we use top-grade components without exception, which we buy from selected manufacturers. Thus our Linear SE mk II is equipped off the shelf with capacitors from Mundorf in the power supply and also in the signal path, an ahp fuse and Mogami cables. Vibration-absorbing SSC feet are another standard feature of the Linear SE mk II.
This reference class headphone amplifier also copes with the highest of aesthetic demands. The housing developed by product designer Guido Gutenstein will impress you with its simple elegance and a noble silk flat aluminium finish. Match different housing and faceplate versions with freely selectable LED colours and black or silver 3S Device Feet, as you desire. That way the Linear SE mk II will become your very personal gem to assort well with your taste and/or existing devices.
Some thousand music lovers in the world are already sold on our Linear headphone amplifier. Even with extremely demanding industrial customers – from the WDR to Sennheiser and Zimmerli – it has become firmly established. HiFi and studio magazine editors use our sound master as reference device. Now the Linear SE mk II is writing a new chapter of this success story.
HOUSING SURFACE FINISHES AVAILABLE – Silver (aluminum) and Black (aluminum)
UPGRADES AVAILABLE
Upgrade for the analogue board: The new Linear II mainboard is equipped with the improved components of the Linear SE board and built using a special low-impedance technology (low-Z copper) which raises the price of the naked PCBs by a factor of about 10. But the effort is worthwhile. This technology results in even better dynamic values, but above all it produces once again a significant increase of the sonic performance: transient response and spatial imaging are even closer to the original.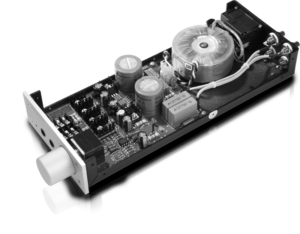 WHAT REVIEWERS ARE SAYING
"Sound Level: 97% & Price/Value: excellent"  — STEREO
"(…)the new i-fidelity.net reference(…)" — i-fidelity.net
TECHNICAL DATA
Linear SE
| | |
| --- | --- |
| Input impedance | 47 kohms |
| Maximum gain | 0 dB, 10 dB, 18 dB, 20 dB selectable via DIP switches |
| Frequency response | 10 Hz (-0.3 dB) to 35 kHz (-1 dB) |
| Signal to noise ratio | > 100 dB at gain 0 dB |
| THD | < 0.001 % at 6 mW/300 Ohms |
| Channel separation | > 70 dB at 10 kHz |
| Output power | 400 mW/60 Ohms |
| | 200 mW/300 Ohms |
| Output impedance | pre-out 60 Ohms |
| | phones out 5 Ohms |
| Connectors audio | Neutrik headphone jacks with gold plated contacts |
| | 1 x pre-out |
| | 2 x phones out |
| | gold plated RCA sockets with teflon insulation |
| Power consumption | 10 W |
| Outer dimensions W x D x H | 120 mm x 296 mm x 59 mm |
| Weight | 2.2 kg netto |
| | |
|      Digital options | |
| USB-DAC 384/32 | Prioritization: |
| | I: USB input |
| | II: line input analogue |
| TOSLINK/SPDIF DAC 192/24 | Prioritization: |
| | I: TOSLINK input |
| | II: RCA input digital |
| | III: line input analogue |
ACCESSORIES AVAILABLE
With our accessories you can get even more use out of our products.
3S Device Feet – Our 3S Device Feet take your Linear SE and your favorite music to a new level.