Sale!
Ayon Scorpio
0% – 3 Year Financing Available!!
Ayon Audio "The Bugatti of Audio"
The Absolute Sound Magazine Award
Ayon Scorpio Tube Integrated Amp – Pure Class A – There is no better vacuum tube integrated amplifier in its class!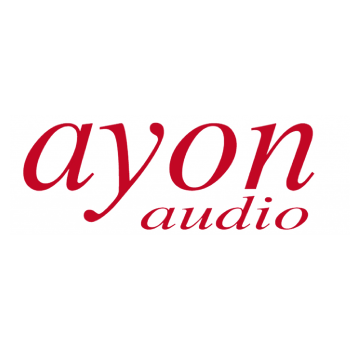 Product Description
0% – 3 Year Financing Available!!
AXPONA 2018 Show Winner – Positive Feedback Editors Choice
"Audio Oasis" Award!
"Best Sound" Cost No Object LA Audio Show 2017 – The Show Newport 2016
Robert Harley & Neal Gader
The Absolute Sound Magazine Award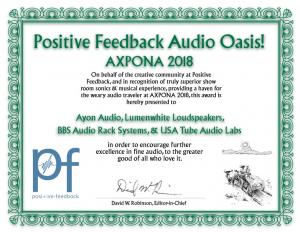 Positive Feedback Online Audio Oasis Award Ayon Lumenwhite BBS USA Tube Audio
No, we do not use ultra-linear/triode operation – Inferior for High End Audio
Ultra-linear electronic circuits are those used to couple a tetrode/triode or pentode vacuum-tube to a load (e.g. to a loudspeaker).
'Ultra-linear' is also know as 'distributed loading'; a circuit technique patented by Alan Blumlein in 1937. Ultra-Linear "distributed loading" was intended for guitar amps, etc.
• In pentode or triode, in which the screen-grid is connected to a stable DC voltage so there are no signal variations on the screen-grid (i.e. the screen-grid has 0% of the plate's output signal impressed on it), or
• In triode, in which the screen-grid is connected to the plate (i.e. the screen-grid has 100% of the plate's output signal voltage impressed on it), or
• a blend of triode and pentode, in which the screen-grid has a percentage (between 0% and 100%) of the plate's output signal impressed on it. This is the basis of the Ultra-Linear "distributed load circuit" and is seen as a form of feedback, which alters the behavior of the electron stream passing from cathode to anode.
Ultra-linear/Triode introduces negative feedback, which squashes and compresses the sonic performance.

So the Pentode/Triode operation will yield a vastly superior response and more of a "tactile" or SET sound, more of a three dimensional sonic signature. Quite Superior!
Ayon Scorpio Tube Integrated Amp -Pure Class A
The Legacy models, previous models to the New Ayon Scorpio proved to be the best selling vacuum tube integrated amps, globally!
The Ayon Orion, Ayon Orion II and the really super nice Ayon Orion III with the crazy good intelligent auto bias and vacuum tube monitoring system, which not only auto biases the vacuum tubes, but will also detect and notify the owner that a vacuum tube is misbehaving and should be replaced, were the best sellers globally.
No other high end audio vacuum tube manufacturer has this type of really helpful feature that prevents damage to the amplifier from a spitty tube!
Now Ayon introduces their New Ayon Scorpio, Manufactured in the EU –
WoW – what a beautiful sounding amp! No other vacuum tube amplifier in this price category touts, Pure Class A in Pentode & Triode mode.
No Ultralinear operation, you do not want ultralinear operation, high distortion, high power output which looks good on paper, but the amp is driven hard, not as reliable as well, not to mention the sound is inferior. Ok all owners that have an ultralinear amp, please don't email me!
The Ayon Scorpio also has the auto bias, plus the aforementioned crazy good intelligent vacuum tube monitoring system. Makes owning a vacuum tube amplifier a real pleasure.
So what does the Ayon Scorpio integrated sound like. Amazing – refined, organic, zero feed back – no noise, three dimensional, low damping makes for a fast tight bass, warm fluid mids, super smooth highs. Built like a tank and elegant. Superb build – what you will always get from the folks in Austria, Germany – where the amp is made.
Pure class A tube stereo integrated amplifier
Pentode and Triode mode
KT88 vacuum tubes & 12AU7 tubes
Perfect for difficult loudspeaker loads
Vacuum Tubes
The Ayon Scorpio is designed specifically and fine tuned to the KT-88 vacuum tube. A finely tuned machine for the KT-88 tube only. The signal tubes, the 12AU7 tubes are NOS as well. Very Nice Touch.
Signal Path
The shortest signal paths delivers the best performance. That is how Ayon designs their gear! Pure Class A ONLY.
● Monitored sequenced soft-start – extends tube life
● Power tube – intelligent protection circuits000
● Zero dB negative feedback
● Ultra short signal path
● Direct circuit paths
● No solid state devices in signal paths
● High current – low impedance design
● Discrete wiring
● Intelligent bias adjustment and vacuum tube protection
● No followers or buffers
● Premium parts throughout

HD Power Supply
HD power supplies have been further refined and enhanced with AC line noise conditioning. Independent power transformers, chokes and filters separate input and output stages makes this a high current, pure power source. Electrolytic capacitors with huge electrical storage capacity.
● HD Low noise – power transformers
● HD Power transformer is encased, damped and RFI/EMI shielded
● Premium power supply – high speed – high current
● Choke filtered power supply
● Independent, isolated HD power supplies for each stage of amplification
● High current filament regulators
● Regulated DC filament – soft start
● AC power line conditioner
● Current limiters
● Intelligent auto sequencing – Power on and off
HD Output Transformer
The HD wide bandwidth output transformer delivers the required current for a tight bass, producing an intoxicating midrange and smooth highs that do not roll off.
● HD wide bandwidth output transformer
● High efficiency no insertion loss – optimal current, voltage transfer
● Resonance sealed Output transformers
Premium Components
● Hand selected components
● Premium high speed audiophile coupling capacitors
● Premium special tube sockets – beryllium, copper, custom made by Ayon
● Premium – speaker taps
● Premium – RCA connectors
● Isolated – internal wiring
● Copper matrix wiring
● Gold PCB
Exquisite Mechanical Construction
Aircraft grade aluminum chassis. Elegant brushed aluminum. Anti resonance, non magnetic chassis. 100% hand assembled, superb craftsmanship.
● Efficient heat dispersal – runs cool
● Beautifully machined control knobs
● Resonance control aluminum feet
● Backlit "ayon" logo
● Panel engraving
● 4 RCA line inputs
● Aluminum remote cotrol
● Chassis finish: black
Specifications
| | |
| --- | --- |
| Amplifier | Ayon Scorpio |
| Class of Operation | Triode* or Pentode mode, Class-A* |
| Tube Complement | 4 x KT88 & 3 x 12AU7 |
| Load Impedance | 4 & 8 Ohms |
| Bandwidth | 15Hz – 50kHz |
| Output Power-Pentode mode KT88 | 2 x 60 W |
| Output Power-Triode mode KT88 | 2 x 40 W |
| Input sensitivity for full power | 500mV |
| Input Impedance at 1 kHz | 100 KΩ |
| NFB | 0dB |
| Volume Control | Yes |
| Remote Control | Yes |
| Inputs | 4x Line |
| Dimensions (WxDxH) | 18.11 x 13.38 x 10.23 inches |
| Weight | 77 lbs – Shipping weight 87 lbs |
Specifications subject to change without notice
Specifications
Pure Class A
Ayon Scorpio
Class of Operation
Triode* or Pentode mode, Class-A*
Tube Complement
4 x KT88 & 3 x 12AU7
Load Impedance
8 Ohms
Bandwidth
15Hz – 50kHz
Output Power-Pentode mode KT88
2 x 60 W
Output Power-Triode mode KT88
2 x 40 W
Input sensitivity for full power
500mV
Input Impedance at 1 kHz
100 KΩ
NFB
0dB
Volume Control
Yes
Remote Control
Yes
Inputs
4x Line
Dimensions (WxDxH)
18.11 x 13.38 x 10.23 inches
Weight
77 lbs – Shipping weight 87 lbs
Specifications subject to change without notice