Ayon HA-3 II Tube Headphone Amp
0%

– 3 Year

Financing Available!!
Ayon Audio "The Bugatti of Audio"
The Absolute Sound Magazine Award
Ayon HA-3 II Tube Headphone Amp – Pure Class A Triode
Ayon HA-3 II "STATE – OF – THE ART"
The HA-3 II was developed for headphone lovers searching exclusively the very special music experience.
It impresses with it's Single-Ended-Triode technology taken to its respective extremes by Ayon in all their products. Selected in-house AA45 Mesh super triodes, the perhaps most perfect and best sounding low-power triode for headphone amp design, are applied in combination with special super-permalloy wound output transformers.
At the HA-3 II deliberately all useless gimmicks have been omitted. The HA-3 II is designed without compromise in its circuitry as well as in its power conditioning; therefore, a separate top-class power supply was inevitable; on the one hand it guarantees extraordinary voltage and current stability and lowest hum.
With its powerful, airy, and lively play, paired with a superb spatiality with emotional reproduction the HA-3 II drives every dynamic headphone to absolutely maximum tonal performance. From treble in brilliant resolution to absolutely authentic colourful mid-range and a deep resilient bass. At the same time, it fascinates by its incredible ease, closeness and control at any kind of reproduction that is second to none.
Product Description
0%

– 3 Year

Financing Available!!
Read the Amazing Review by David W. Robinson, Editor of Postive Feedback, below……
Ayon HA-3 II Tube Headphone Amp – Features & Design
Full-featured pure class-A tube stereo headphone amplifier
Ayon AA45 Mesh power output tubes
Vacuum Tubes
The choice of signal and power tubes have a significant influence on the sound and hence on the inspiration and joy of listening. This is not only the decision between good and bad tubes but finally the interaction of the different types of tubes and their combination that are used in the various Ayon amplifiers.
Signal Path
We believe that the simplest circuits work best together with the shortest signal path. The shorter the signal path is, the less possibility of sonic degradation from various sources, including the wire itself. Even on the circuit boards, the copper traces are kept to a very minimum length. The completely redesigned circuit board provides a more straightforward and direct approach to the signal paths.
● Logical sequenced soft-start power up for extended tube life
● Ultra short signal path
● Simplest direct circuit path for purest musical sound and high reliability
● No solid state devices in the signal path
● High current and low impedance design that operates tubes in the best areas their curves
● Automatic bias adjustment
● No followers or buffers in the signal path
● Quality parts throughout

Power Supply
The power supplies have been further refined with new components and enhanced AC line noise filtration. Separate power transformers, chokes and filters provide total isolation between the input and output stages which makes this a pure power source. We also use electrolytic capacitors with much larger storage capacity to make up for the loss in filtering when using resistors in lieu of inductors.
● Low noise –insulated power transformers
● Power transformer is excellent damped and RFI/EMI shielded
● Innovative power supply provides a high speed energy delivery on transients
● Choke filtered power supply
● Separate and isolated power supplies over each stage of amplification
● High current filament-regulator for pre/driver tubes
● Regulated DC filament supplies with soft start
● AC power line filter to avoid noise and hash from entering into the unit.
Output Transformer
The super-wide bandwidth output transformer's major strength is that it can deliver the current in the bass, while at the same time maintaining the speed in the high frequencies, dramatically improving the square wave response of the amplifier. The effect is a much more natural and relaxed sound with much better clarity, resolution and fluidity.
● Super-wide bandwidth high performance – super permalloy output transformer
● High efficiency with low insertion loss for optimal current and voltage transfer
● Multiple tight layering and coupling for extended frequency response
● Output transformers are sealed with an anti-resonance compound material
Components
The type of parts used therefore must have a synergistic relationship to the circuit they are placed in. It is this relationship of which type of part to use where, that ranks our products apart from the mass.
● Selected,  quality passive components used in all applications
● High speed  & high quality audiophile grade coupling capacitors
● Special tube sockets with beryllium- copper spring pins, custom made by Ayon
● High quality – RCA input jack
● Special isolated – internal wiring
● Copper matrix – internal signal cable
● Gold-plated industrial grade PCB
Mechanical Construction
The high grade aluminum chassis impart a richer, more lustrous tonality with a cleaner background and less hash and grain. All brushed anodized anti-vibration-resonance and non-magnetic chassis's are fully hand assembled to insure the highest level of craftsmanship.
● Improved heat ventilation chassis
● Custom-made machined control knobs
● All front & rear panel descriptions are engraved
● Chassis finish: black / black
Specifications
| | |
| --- | --- |
| Tube Headphone amp | Ayon HA-3 II |
| Class of Operation | Pure Class A, SE-Triode |
| Tube Complement | 2 x AA45 Mesh, 2 x 12AU7 |
| S/N Ratio | > 100dB (unweighted) |
| Input Impedance | 50 kΩ |
| Frequency Response at 32Ω | 15 Hz – 35kHz |
| Harmonic Distortion (at 150mV ) | < 0.01% |
| Channel Separation L/R | > 89dB |
| Output Power at 32Ω | 500mV |
| Output Impedance – Headphone | 16Ω – 600Ω |
| Line Input | RCA phono sockets |
| Headphone output | ¼" Stereo Jack (6.35mm) |
| Power Consumption | ~ 65W |
| Dimensions Main Unit (WxDxH) cm | 22x30x20 cm |
| Dimension Power Supply (WxDxH) cm | 22x30x10 cm |
| Weight (Main) | 10kg |
| Weight (Power Supply) | 11kg |
Ayon reserves the right to make improvements which may result in specification or feature changes without notice.
Impressions: 

The Ayon Audio HA-3 II SET Headphone Amplifier and the Focal Utopia Headphones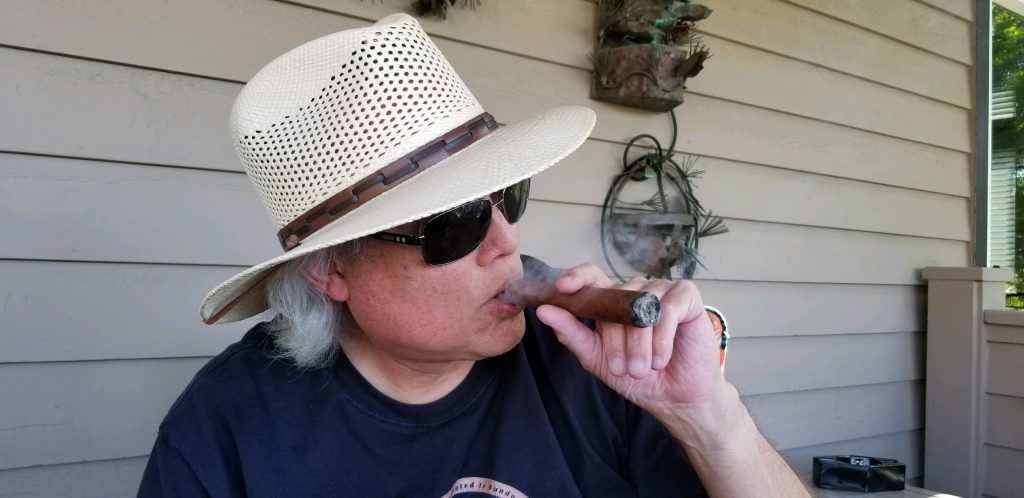 High-end headphones and Personal Fi. I've evaluated a goodly handful of 'phones and headphone amps over many years, with some excellent results. Some were large cost-no-object designs, built for home, listening room, or office use only; others were compact and portable, for the music lover on the go. (I do a fair amount of flying, and appreciate good portable gear.) I also have some great headphones and headphone amps for stay-at-home. Either way, I'm well served.
As a result, over the years I've built up a collection of reference headphones, of various types. Electrostatic, Dynamic (both open and closed back), Planar Magnetic…over the ear, in ear (both generic fit and custom-molded)…a good cross-section of what's out there.
I've been more and more impressed with the gains that we're seeing in reference headphone systems over the past few years, though. For 2018, I thought that I would make a major effort to explore several truly great headphones and headphone amps. These are combinations that I've searched out or have been informed of over the past 18 months or so. The response from manufacturers has been quite favorable, and review samples were forthcoming. I've spent quite a lot of time here in my editorial office listening to the results…this is the first of several reports on what I've been hearing this year.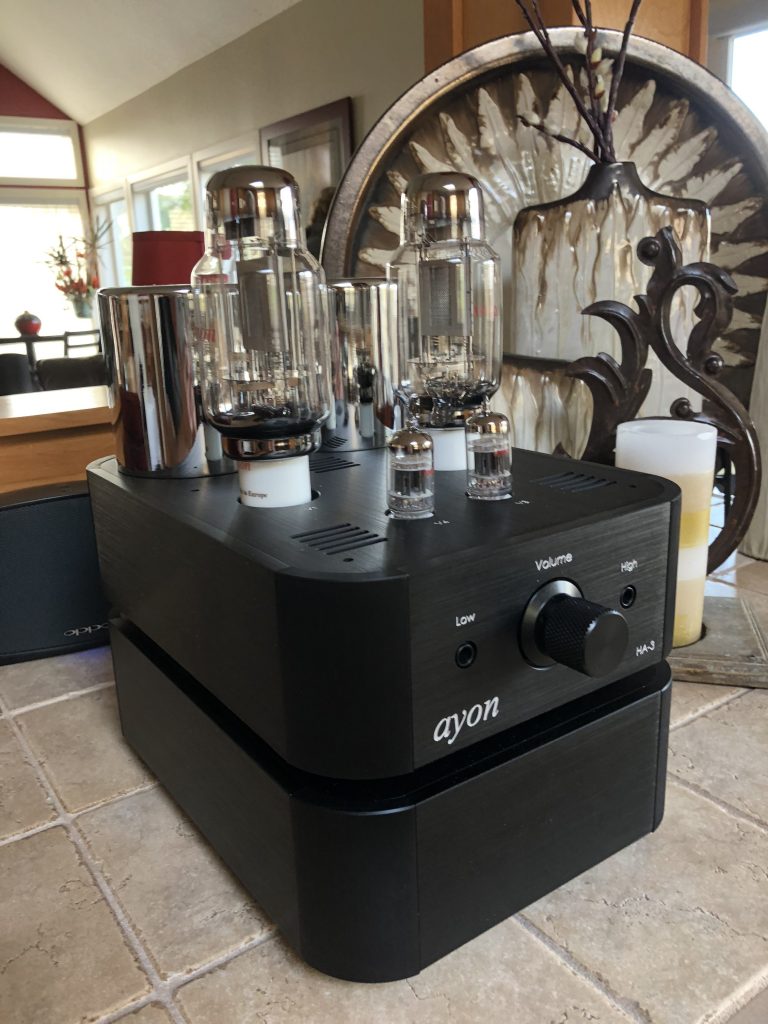 The striking Ayon HA-3 II SET two-box headphone amplifier (photograph and image processing by David W. Robinson)
Charles Harrison of USA Tube Audio and Ayon Audio sent along the Ayon HA-3 II Headphone Amplifier. Ayon Audio is a major player in the world of tubed audio, based out of Austria. This is a lovely two-box SET tubed design, with a separate power supply. Ayon is clearly staking out ground in a purist and minimalistic SET approach to headphone amplification, and is doing so with real seductive beauty to both eye and ear. I was really looking forward to hearing how the HA-3 II would perform here at PF River-City-and-up-the-hill.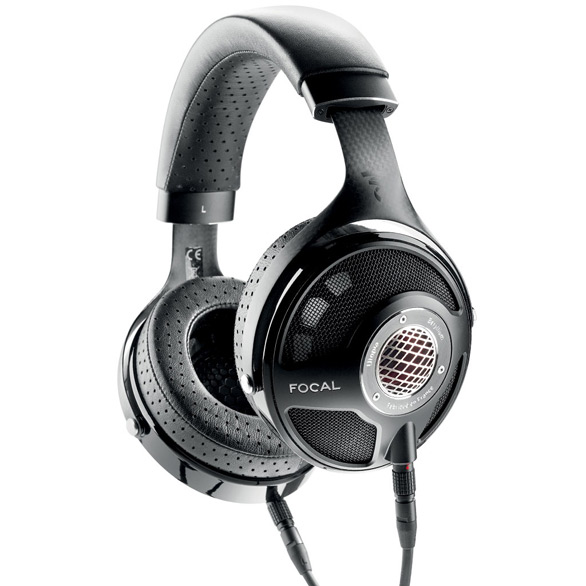 The Focal Utopia Reference Headphones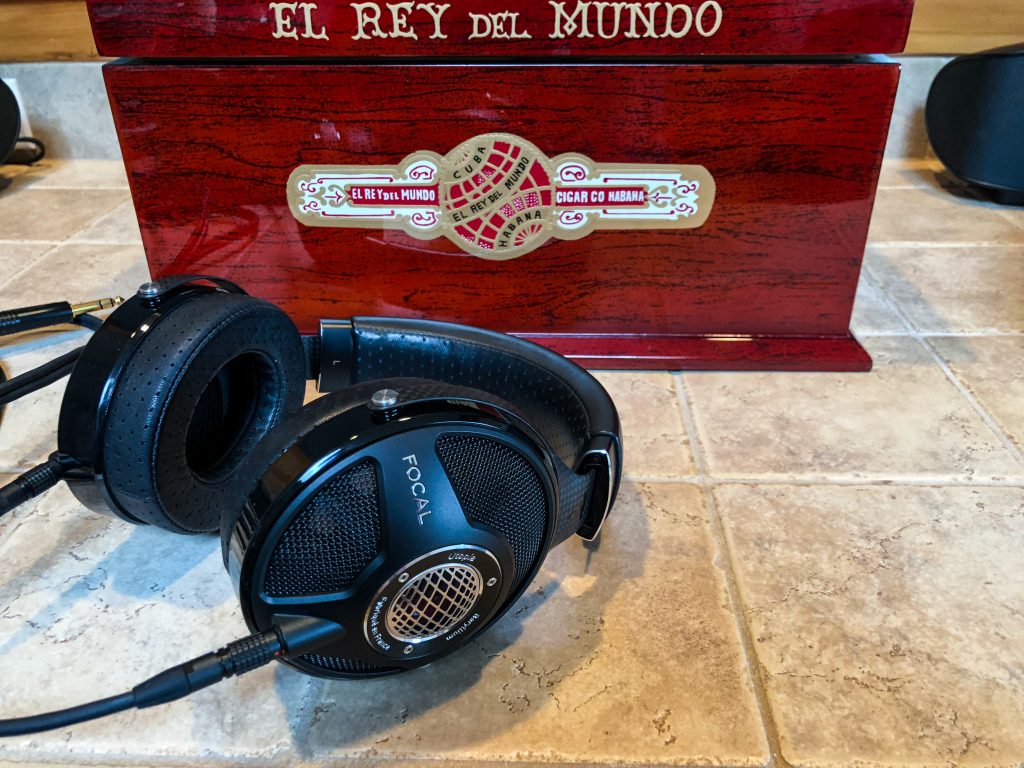 The Focal Utopia Beryllium Headphones upon arrival (photograph and image processing by David W. Robinson)
Every headphone amp review must also be a review of headphones, of course. What direction to go here? I had a lot of latitude, since the HA-3 II would handle everything from 32-600 ohms comfortably. After some research, and some discussion, the good folks over at Focal sent along their Utopia reference headphones for my trial and evaluation for this headphone project. I had heard great things about the Utopias and their pure beryllium drivers, and wondered how they would stack up against other headphones here. Focal's courtesy and interest in what I was doing was quite pleasant, and speaks well of the culture at this large and well-known high-end audio company. (No, not all large high-end companies are this way.)
Specifications
Quantitative measures are not be-all and end-all in the world of high-end audio, of course. We're much more interested in how equipment sounds than in how it measures. (Pace, audio number crunchers and so-called "objectivists"!) But, properly understood, hardware information can help us to develop a mental profile of a given design.
For those interested, here are the specs for both the Ayon HA-3 and the Focal Utopias.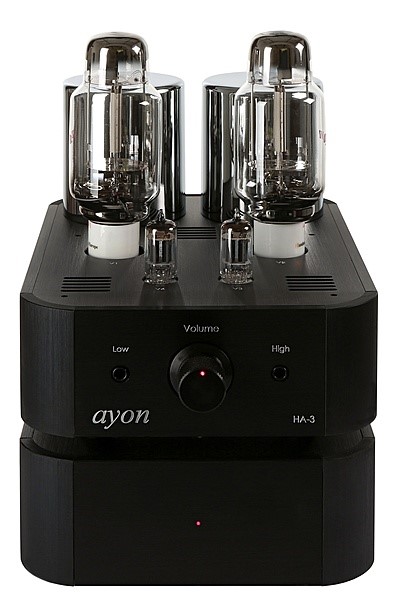 Ayon HA-3 II SET Headphone Amplifier
Tube Headphone amp, Pure Class A Triode
Class of Operation: Pure Class A, SE-Triode
Tube Complement: 2 x AA45 Mesh, 2 x 12AU7
S/N Ratio:  > 100dB (unweighted)
Input Impedance: 50 kΩ
Frequency Response at 32Ω: 15 Hz – 35kHz
Harmonic Distortion (at 150mV):  89dB
Output Power at 32Ω: 500mV
Output Impedance – Headphone: 16Ω – 600Ω
Line Input: RCA phono sockets
Headphone output: ¼" Stereo Jack (6.35mm); 1 x low impedance (~64 ohm and below); 1 x high impedance (>~64 ohm – 600 ohm)
Power Consumption: ~65W
Dimensions Main Unit (WDH) cm:  22 x 30 x 20 cm
Dimension Power Supply (WDH) cm:  22 x 30 x 10 cm
Weight (Main Amplifier): 10kg
Weight (Power Supply): 10kg
(A further list of product details is posted by USA Tube Audio for Ayon at https://www.usatubeaudio.com/product/amplification/ayon-ha-3/. I'd strongly recommend that our readers peruse this profile, as it includes additional information.)
In sum, a great collection of design excellencies. Pure Class A, SET, 45 Mesh tubes on the output side, very good frequency response, a broad range of impedances supported, separate 6.35mm (1/4″) jacks for hi-Z and lo-Z output, and very solid power output. The volume control is solid and smooth in feel, and continuous in operation. The separate power supply acts as a handy and handsome platform for the amplification section of the HA-3 II.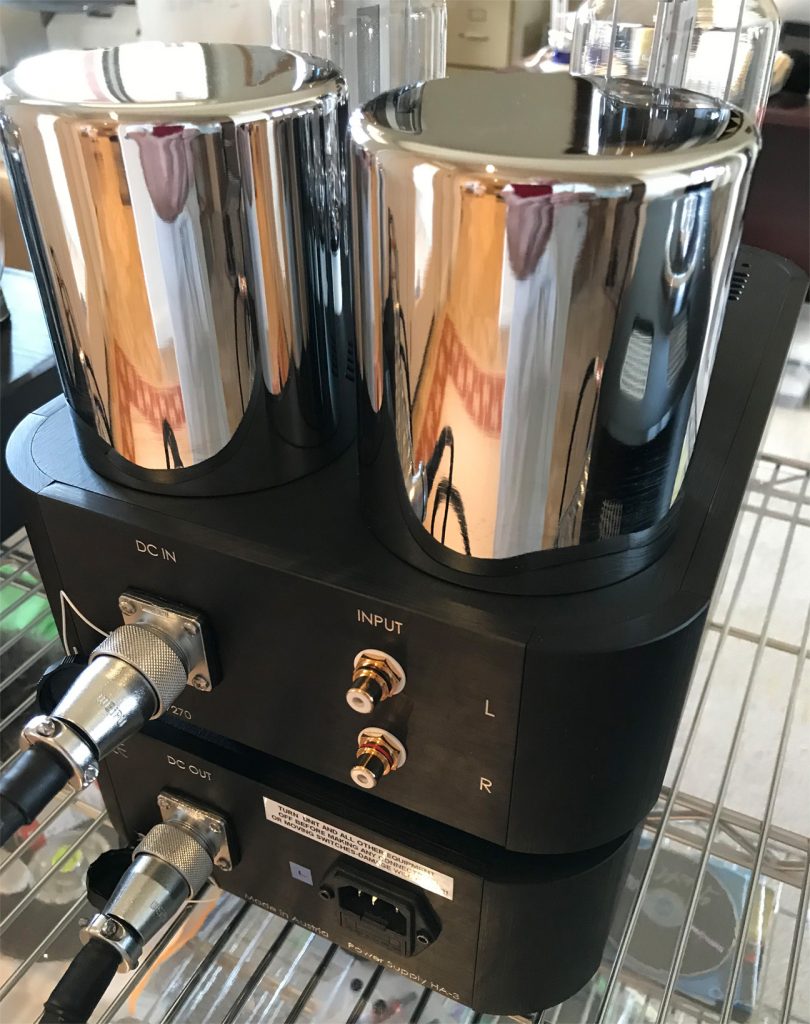 Rear view of the Ayon Audio HA-3 II showing the dedicated power connector from the external power supply and the unbalanced inputs.
Very nice, indeed.
And now for the Focal Utopia headphones.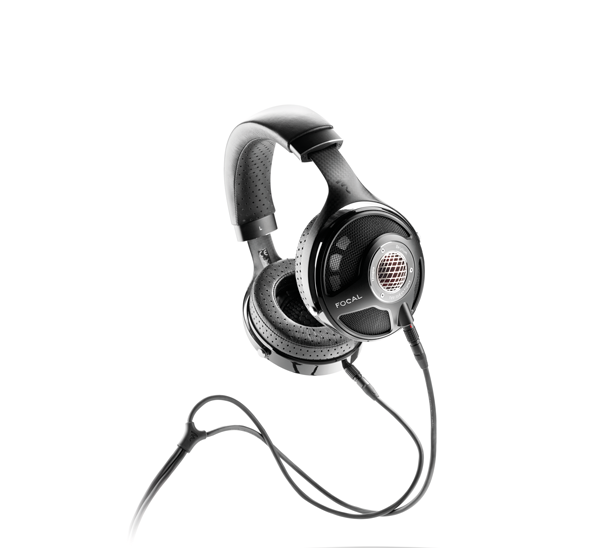 Focal Utopia Headphones
Type: Circum-aural open back headphones
Impedance: 80 Ohms
Sensitivity: 104dB SPL / 1mW @ 1kHz THD
Frequency Response: 5Hz-50kHz
Loudspeaker: 40mm pure Beryllium M-shape dome with carbon fiber yoke
Ear pads: Pure lambskin
Weight: 1.08 lbs.
Cable length: 3 meters
Connectors: 1 x ¼" (6.35mm) stereo jack; 1 x 9.5mm Lemo
Carrying case: 326mm x 260mm x 164mm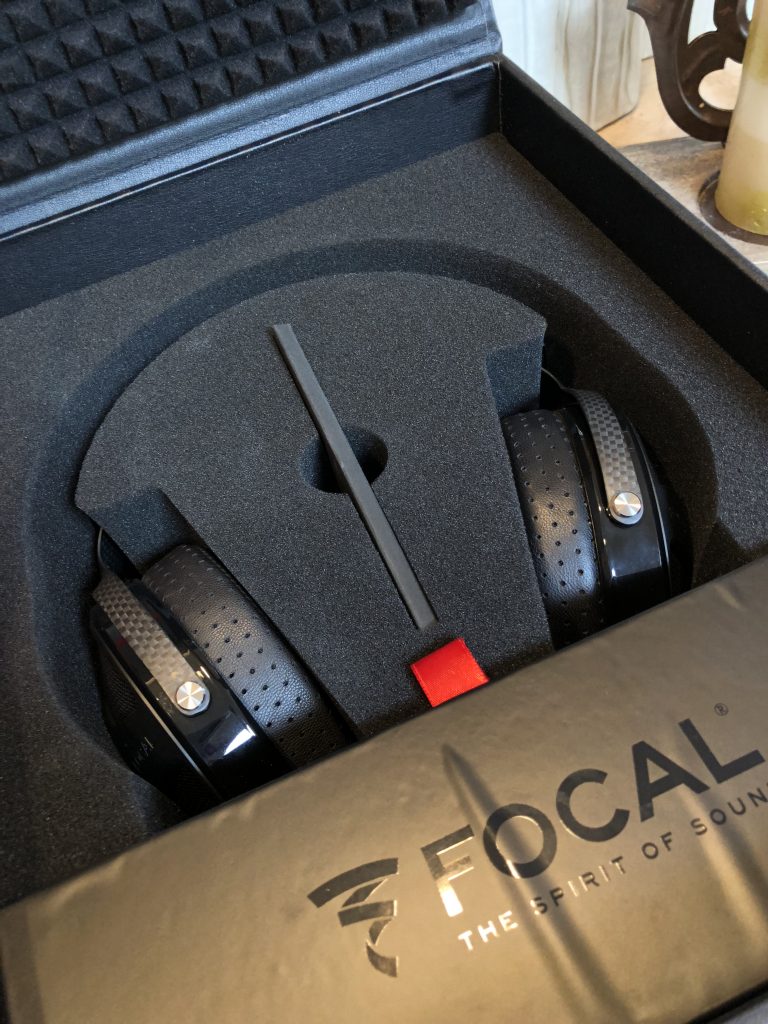 Focal makes a big point about the fact that the Utopia drivers are 40mm pure Beryllium, an element that's both light and very strong. They have been shaped in an "M"-shaped driver configuration, which according to Focal has allowed them to avoid the use of a crossover network, while still having a nominal frequency response of 5Hz – 50kHz. These extraordinary drivers, mounted in a fully open-back design, lead to a blessed union of spaciousness with dynamics and detail that is mind-blowing (see my comments on the sound below).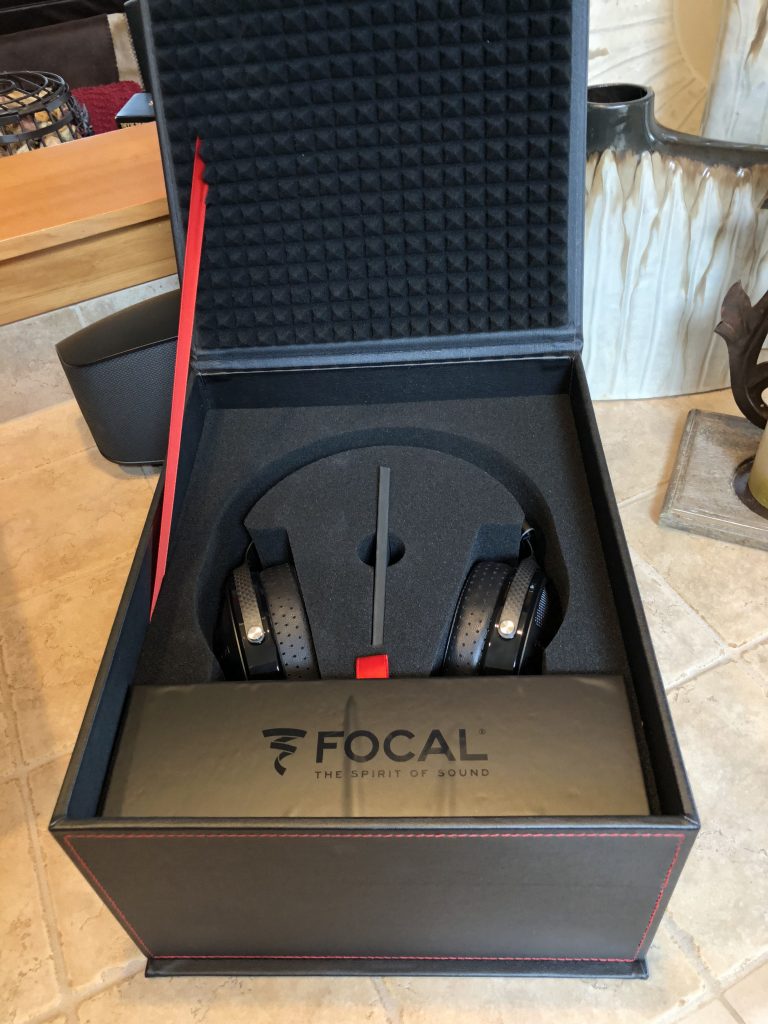 The packaging was of exceptional quality, and would protect the Utopias against anything except the most violent damage. (That is not a dare, UPS and FedEx.)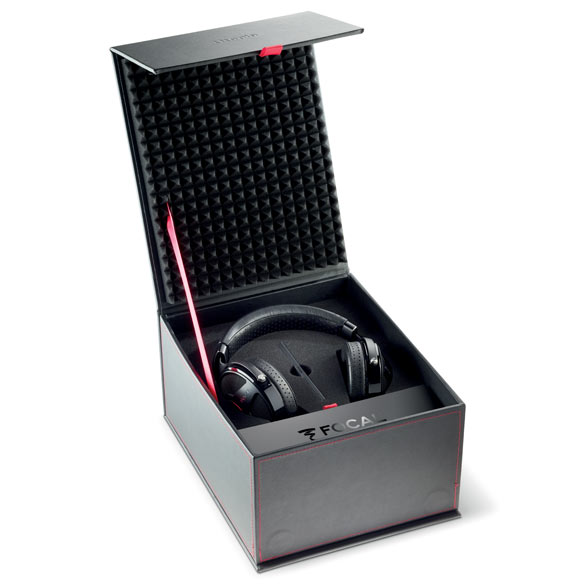 So we have a lowish impedance (80 ohms) pair of drivers that are constructed of modern materials that are housed in a beautifully crafted open-back housing and framework. The headphone yoke is constructed of carbon fiber with lines that flow directly to the 'phones themselves; the earpads are made of lambskin for maximum comfort.
These are all elements of an extremely righteous headphone design…but how would they sound over time?
The Sonic Chain
After some trial runs, I made the decision to try the Ayon Audio HA-3 with the Focal Utopias. They seemed to work and play well together, and I'm always looking for the good mojo of audio synergy, that wild and elusive beast.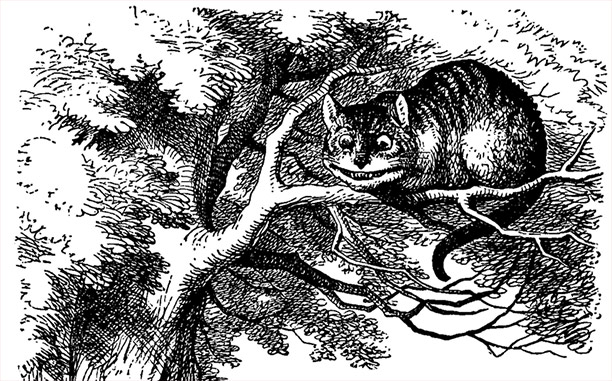 The linkage that I used ran from the ModWright-modified OPPO BDP-105 two-box tubed unit, the PS 9.0 Power Supply with upgraded rectifier tube. This was home base for SACD playback for the HA-3 downstream. SACDs were the main source that I used for my evaluation of the HA-3/Utopias. RCA interconnects were JENA Labs Symphony from the unbalanced outputs of the ModWright BDP-105 to the unbalanced inputs of the HA-3. The power cables were a pair of JENA Labs braided and an ALO Audio Green. Power conditioning and distribution was courtesy of Furutech's Daytona 303, powered by a Furutech NCF Power Cable plugged into a Furutech NCF AC Receptacle. (Later I shifted from the Daytona 303 to the latest iteration of the Walker Audio Velocitor, the VelocitorsS, cabled with the Silent Source Music Reference cable recommended by Lloyd Walker himself.) The headphone cable was the Focal-supplied two meter cable.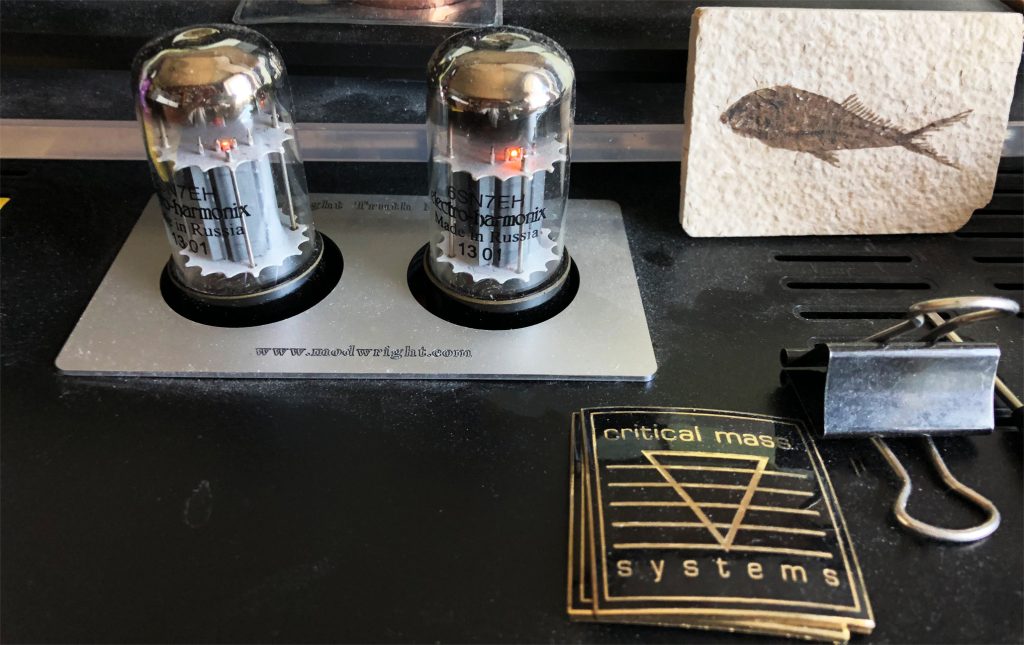 The output tubes on the ModWright BDP-105 Universal Player (photograph and image processing by David W. Robinson)
Overall, this is a highly-tubed pipeline, with no less than nine bottles in play during listening. The results with the precision of the SACD sources that we listened to reflected the glowing tubulosity of the signal chain. More on that just below.
After checking to be sure that all was working out of the box, I ran the HA-3 II/Utopias on auto-play for about five days with the ModWright OPPO BDP-105, changing the SACD from time to time. I found that after about 100 hours, the sound of the two started to bloom nicely, and would continue to do so until well after 250 hours. This was for the benefit of the HA-3 II and Utopias; my ModWright BDP-105 is fully broken in as of years ago.
The Sound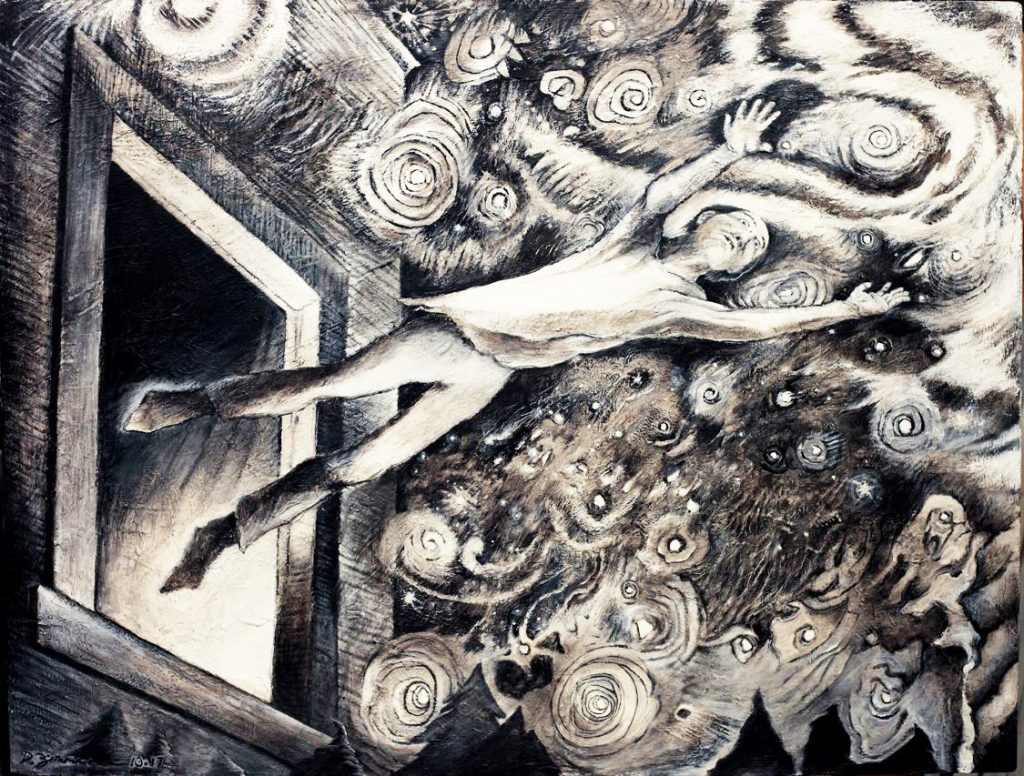 Well now…after 100 hours, I really dug in on listening daily to this combo while working at my desk for Positive Feedback. I regularly spent 4-5 hours in extended sessions, while going from disc to disc. As far as the music goes, we have a very large SACD reference library here at PF River-City-and-up-the-hill…approaching about 7000 discs these days.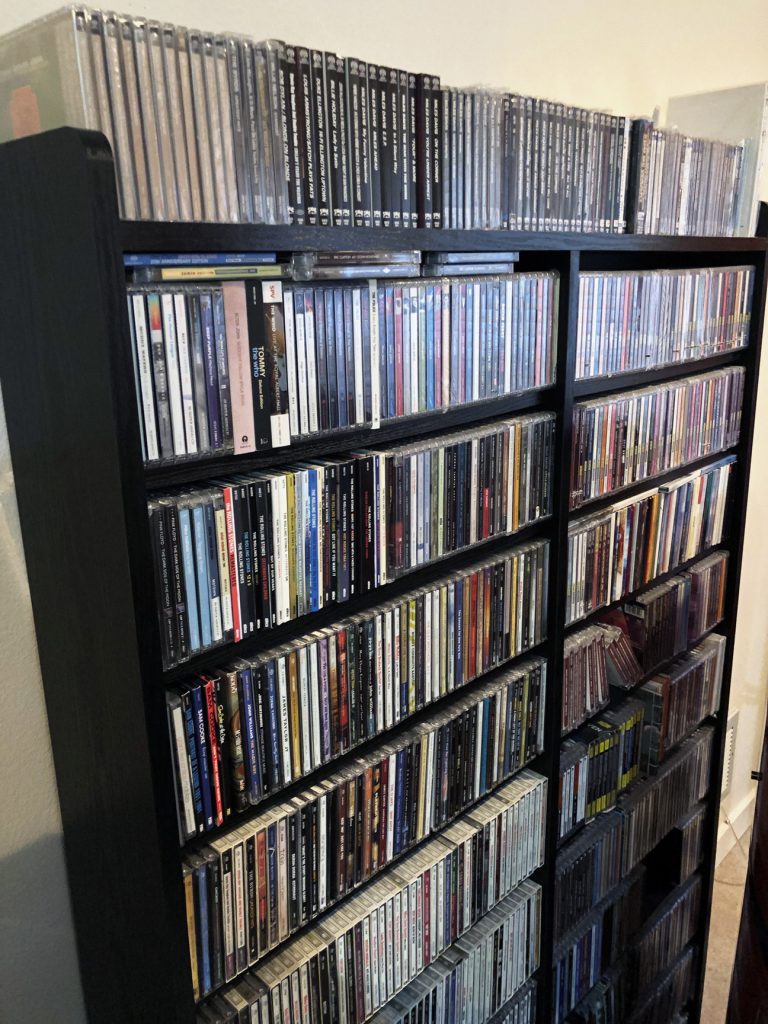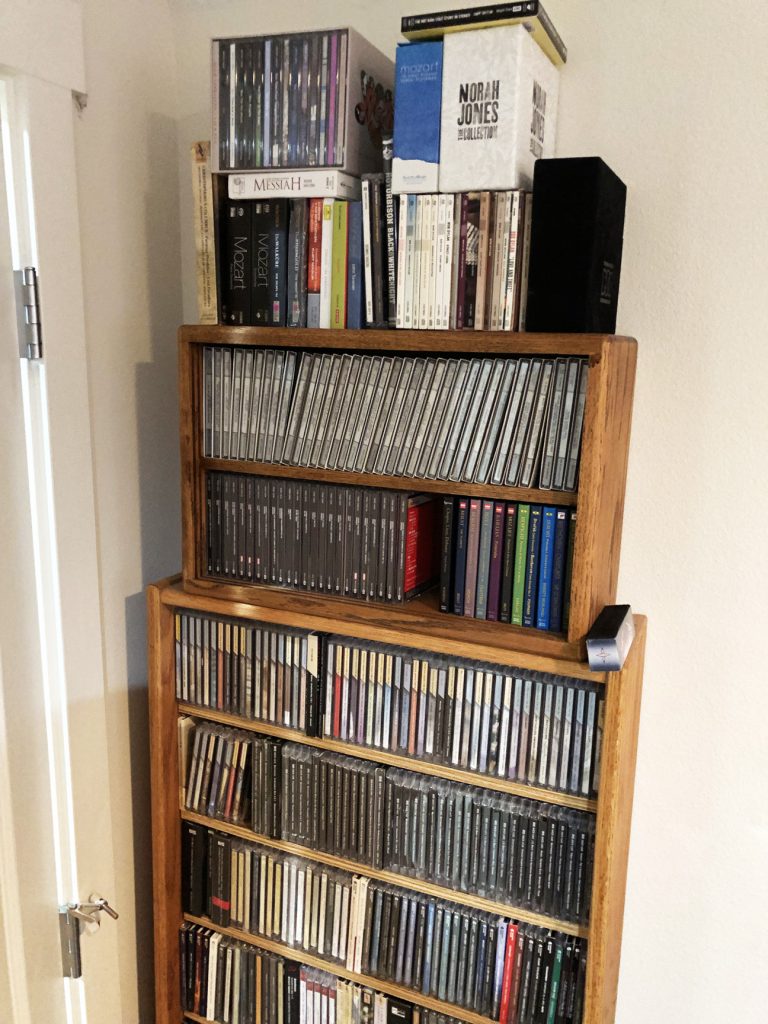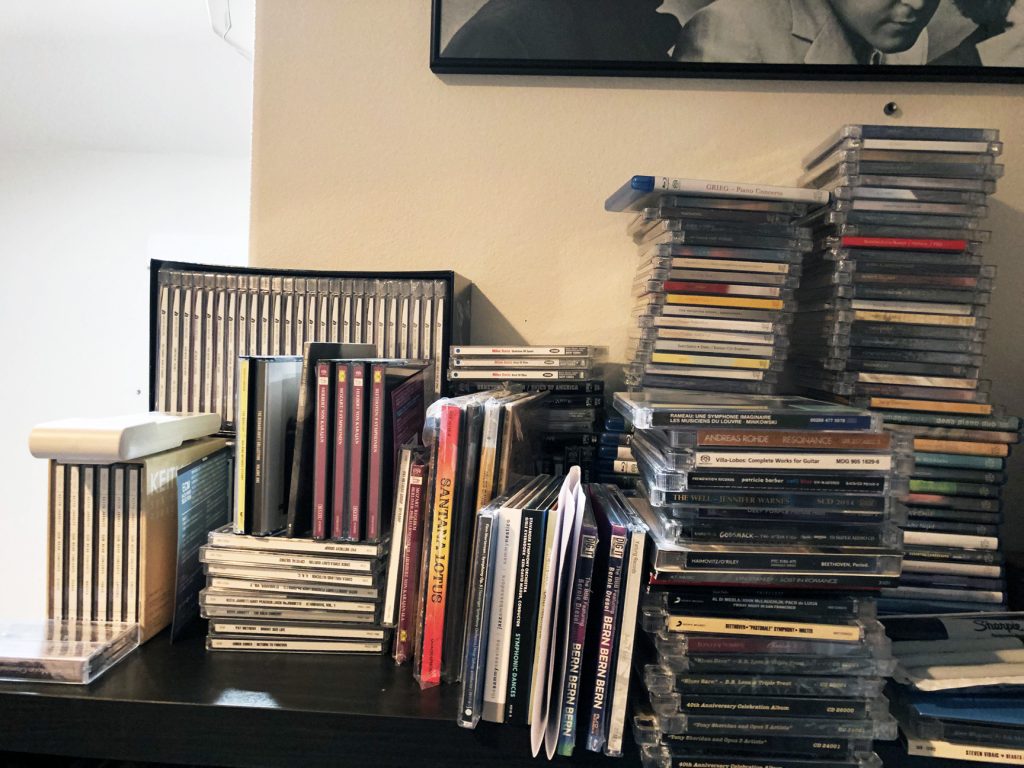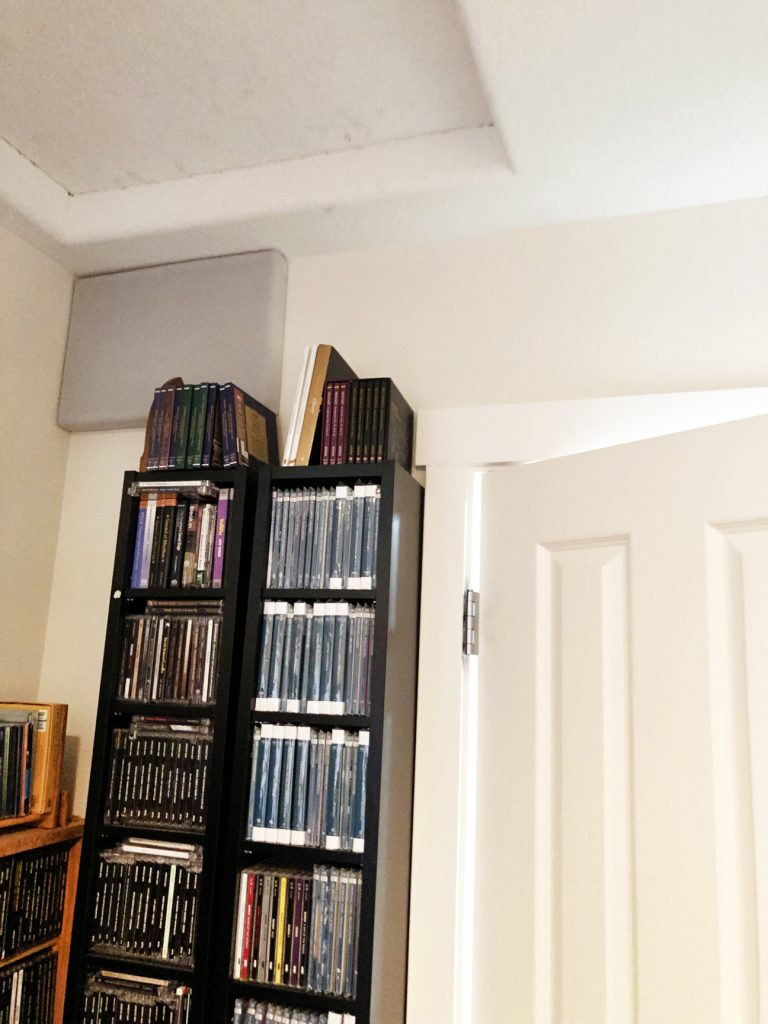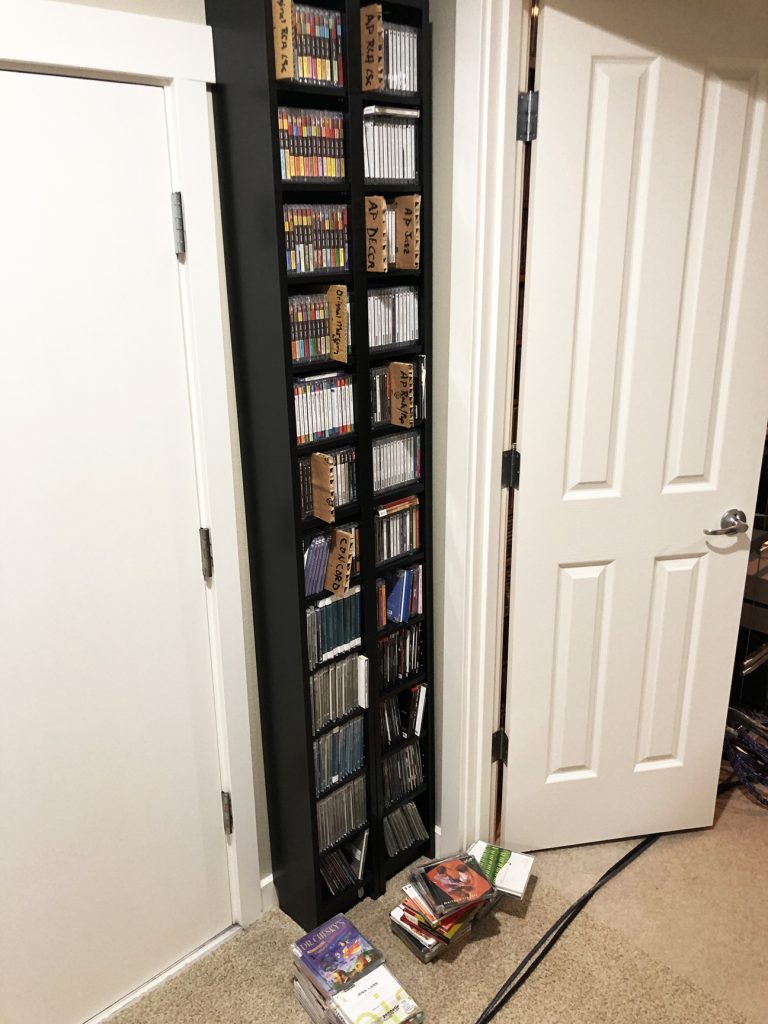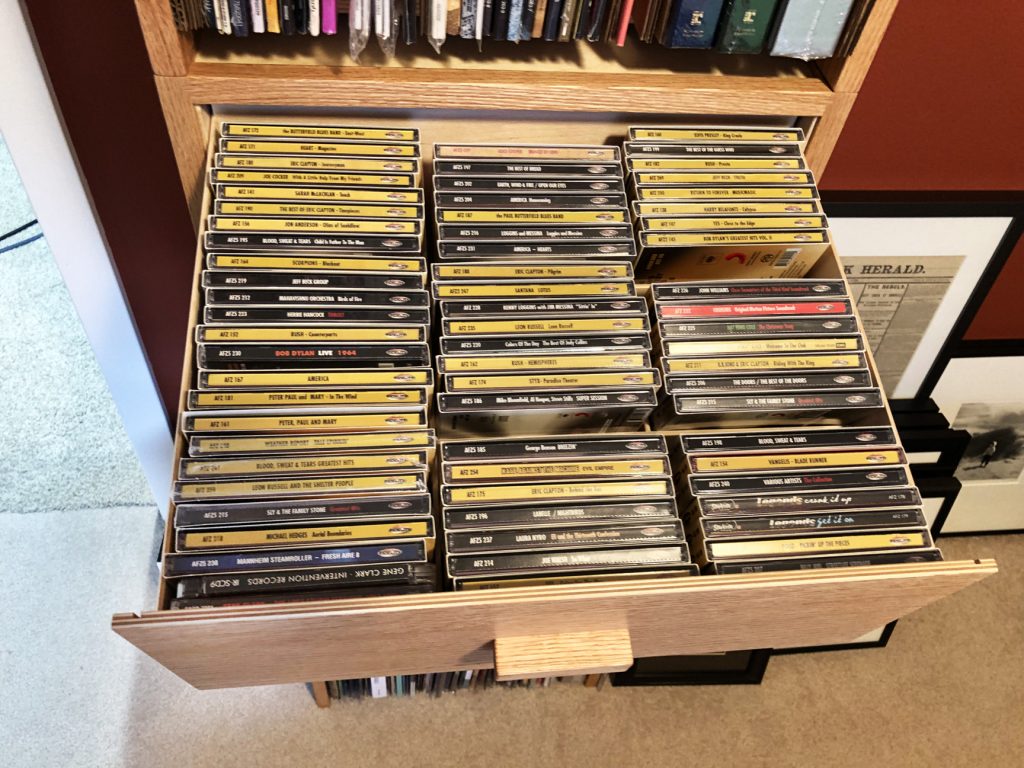 Yes…really.
For evaluation, I used a broad array of music, with SACDs from Analogue Productions, Sony Music, Audio Fidelity, Universal, SHM-SACD, EMI (Universal Japan), Esoteric, Top Music, RCA Living Stereo, Mercury Living Presence, Reference Recordings, 2L, Stockfisch, DG, Archiv, Opus3 Records, and Blue Coast Records. This meant that I had a very wide variety of music to use with the HA-3 II/Utopia tandem. And by now, I've put hundreds of hours on them…you can do that when you're listening while working at your desk for months.
And what's my scorecard for the Ayon Audio HA-3 II and Focal Utopia headphones?
Transparency:  I've mentioned a number of times that I consider transparency to be the king of audio virtues…and now I'm saying it again. This combination of Pure Class A SET and open-back Beryllium drivers did an absolutely smashing job of taking the ModWright OPPO BDP-105's tubed output and launching it into a cranial internal orbit. No muss, no fuss…just an exceptional sense of clarity, done over a deep, dark background.
"Crystalline" isn't quite the word I want here…that's more the traditional realm of electrostatics…but it's pretty damned close in the case of the HA-3/Utopias. The open-back design really does give a nicely enhanced sense of openness, helping the transparency of the Beryllium drivers to shine.
Spatiality:  Excellent. Naturally headphones cannot be evaluated for imaging/soundstaging the same way that loudspeaker-based systems can, but they can do more or less well at giving the listener a sense of space in the old interaurals. Really great recordings, like my old and highly favored warhorse Rhapsodies with Stokowski on Analogue Productions RCA Living Stereo SACD, just float, with a powerful sense of the hall…even on headphones. For example, the first cut, Liszt's Hungarian Rhapsody No. 2, is a The HA-3 II/Utopias team really impressed me with the way that the recording sounded expansive and extended, something that lesser electronics and headphones simply don't do for me.
Dynamics: Wow! On the macro side, big-time slam-dunk kapowie! No overload; no congestion; no breakup. The Ayon Audio HA-3 II seems to have all of the oomph necessary to propel dynamic references like Reiner's Scheherazade on Analogue Productions SACD, or the immortal performance and recording of Respighi's The Pines of Rome on SACD from the same source. Likewise, the soundtrack to Bladerunner on Audio Fidelity SACD, the "End Credits" track, simply turns your head into a punching bag and cuts loose!
Who says that SETs can't pounce and bounce?!
In fact, I found that a volume of 9:00-9:30 on the dial was all that I needed for many recordings, while 10:00 or so was fine for those that needed a bit more gain (or that I really wanted to groove with!). Like, say, Eric Clapton's Timepieces:  The Best of Eric Clapton on Audio Fidelity SACD. One word:  "Layla"!
(Damn. I am really missing Audio Fidelity…they had such great A&R!)
Detail:  No problems here. The presentation of detail, from delicate to daunting, came through without any hitches. The 45 tubes on the HA-3 II sitting on their separate power supply and operating in Pure Class A mode sent the Focal Utopias a signal that allowed the Beryllium drivers to parse micro- and macro-details in a most satisfying way.
I checked out a recent rave of mine. Being a huge fan of traditional American finger-pickin' style on 12-string guitars (hi, Cuz Keith Knight!), I had to spin Andreas Rohde's Resonance, which is Vol. 2 of the "Analog Pearls" series on Stockfisch SACD. Absolutely killer…a brilliant transfer from the original analog tape to DSD via a Meitner A/D…and nails it! Listening to the fingering and fretting was a huge pleasure via the HA-3/Utopias tandem; every bit of Rohde's mastery of the 12-string, reminding me strongly of Leo Kottke, who certainly must be a powerful influence, was immediately discernible.
Absolutely brilliant.
Transient response:  Absolutely excellent. This audio virtue, which my good audiobud Lloyd Walker calls "quickness," is there in the HA-3 II/Utopia duo, in spades. In fact, while it was quite good with the Furutech Daytona 303, it seemed to get even better when I installed Walker Audio's latest generation power distribution unit, the VelocitorsS. Good grief! (Note that it is plugged into the same Furutech NCF AC Receptacle, using a Silent Source Music Reference Power Cable, that the Furutech Daytona 303 is connected to.) I definitely heard an improvement in transient response…the "quickness" that Lloyd refers to…with that unit supplying the HA-3. It's obvious that hanging onto the transient tracks is something that it does well, and even better with the VelocitorsS in the mix.
Bass: This is easy:  the HA-3 II/Utopias reached deeply into the nether regions. Not boomy at all…deep, but well controlled lower frequency performance was evident from the get-go with the Focal Utopias. Not overly tight; I don't like overly tight bass. (Come to think of it, I don't like overly tight anything…clothes, budgets, relationships, cigar draws, and people.)
Musical bass, bass that is round and breathes.
And it was there, big time, when the HA-3 and Focal Utopias handled recordings like 2L's absolutely fantastic SACD, Edvard Grieg – Piano Concerto like a world-class champion duo. I'll be categorical:  Any piano lover who can play SACDs and does not have this one in his or her collection is missing a glorious recording! One not to be missed. And there's an utterly cool secret behind how this unique recording was made, one that you'll find out about when you read the very fine liner notes.
Nope! I'm not going to tell you. You'll have to purchase this Blu Ray/SACD combo pack to get in on the mystery. And just wait until you hear it…
The entire disc will give the bass region a well-balanced workout. You can thank me later.
Or check out "The Pines of the Appian Way," track 4 on Pines of Rome/Fountains of Rome, on the classic reference recording by Reiner and the CSO done to SACD and produced by Analogue Productions. Deep, brothers and sisters.
Midrange:  Gorgeous. Here is the traditional stomping grounds of excellence with SETs, and the HA-3 II just glows with midrange gloriousity and sensuality. Any recording that excelled in the midrange sounded wonderful here, period. I have listened three or four times to a recording that my good audiobud Joe Cohen of The Lotus Group introduced me to, Rameau's Une Symphonie Imaginaire, Minkowski and Les Musiciens du Louvre, on Universal Japan's single-layer SHM-SACD.
I have both the LP and two different SACDs of this recording, and have heard it many times. This recording is highly dynamic, but also features excellent in all tonal ranges. The midrange is simply lovely, and shows that the HA-3 II/Utopias are exceptional here.
This is confirmed by the very fine recording of Sir Georg Solti and the CSO performing Debussy and Ravel (Ravel:  Bolero, Debussy:  La Mer & Prelude a L'apres-Midi D'un Faun), on Universal Japan/Decca single-layer SHM-SACD. If you need midrange goodness in your life, this will certainly deliver it. The performance of the HA-3 II/Utopias was simply delicious in every way.
Treble:  The combination of extended frequency response on the Focal Utopias, its open-back design, and the high performance of the Ayon Audio HA-3 II provided the best upper frequencies that I can ever remember experiencing in a dynamic headphone. All music, all types…I would never have guessed that I was listening to dynamic 'phones.
Harmonics:  The harmonic structure…that is, the way that all frequency ranges blended with one another…was remarkable with the Focal Utopias. Focal talked about the fact that their M-configuration Beryllium driver allowed them to avoid crossovers and complicated configurations. As they say on their Website, "Utopia are unique: they are the world's first audiophile headphones featured totally open-backed full-range speaker drivers with pure Beryllium 'M'-shaped domes. The acoustic quality of this exclusive solution allowed Focal to avoid the use of any crossover or passive filtering process to achieve a frequency response from 5Hz to 50kHz!"
This is what I'm hearing over the months that I've been listening:  an extraordinary seamlessness to the music, with complete coherence from top to bottom and back again.
Organics:  By "organics," I mean the way that an audio chain brings together all other sonic virtues into something more:  a living, breathing, living whole, one that makes you listen on and on and on. Some speak of "musicality" (as do I, in a different way), others talk of "gestalt."
Me, I think of truly great components as bringing it all together, without leaving anyone out of the banquet. This is when fine audio crosses the line into the truly transformational, connecting at the level of soul, and fanning the flames of same.
You know. Organic.
The HA-3 II/Utopias have this, in spades.
Comfort:  Fantastic! The Focal Utopias allow me to listen for hours on end, which means that they are of great benefit to me as I write and edit, which I prefer to do to music.
Instead of having to take frequent breaks from listening, due to headphone pinch, or pad discomfort, or overheating, the Utopias are top-rank for their pure comfort. The lambskin ear pads are a major blessing to those of us who do appreciate the virtues of long stretches of fine listening while working.
Reliability:  No problems to report. The Ayon Audio HA-3 and Focal Utopias have not glitched at any time, and that's after hundreds of hours of heavy use. Thumbs up here.
Conclusion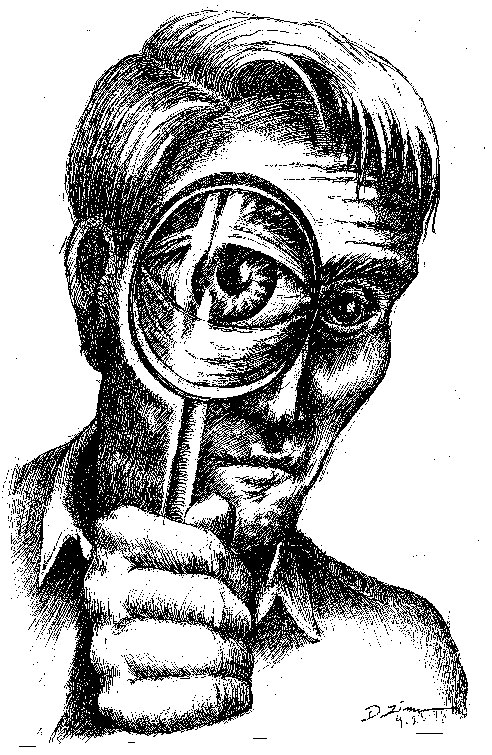 You can see this freight train a'comin', I reckon.
To say that I really love the Focal Utopias and Ayon Audio HA-3 is not an overstatement at all. Here we have a combination of tubic goodness and state-of-the-art design and execution that demonstrates that the possibilities for the audio arts are by no means exhausted. To hear a Pure Class A 45-based SET with its separate power supply take a tube-based SACD output and feed a cutting-edge reference headphone like the Focal Utopias was to find a deep joy in the music. And as I've mentioned, the comfort of the Utopias allowed me to do so for hours on end…as I'm doing right now, in fact.
No quibbles, no problems, and fantastic performance from this dynamic duo. Just months of great listening, so good that I just dug my recordings for hours on end. They just flowed and flowed…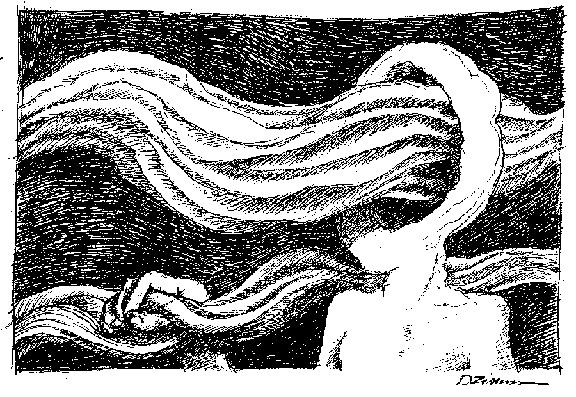 Verdict? I put both the Focal Utopia Reference Headphones and the Ayon Audio HA-3 II Headphone Amp in the top rank of this component class that I have heard. Absolutely brilliant in every way. (In fact, both will be receiving Brutus Awards from me when I announce them next week! It's close enough that I can let that secret leak.)
The Focal Utopias and the Ayon Audio HA-3 II therefore earn a "Ye Olde Editor's 'Very highest recommendation!", and that with great enthusiasm. In fact, I have have made arrangements to purchase the Focal Utopias, and will be keeping them here in our PF hardware reference library for ongoing use. Yes, they're that good.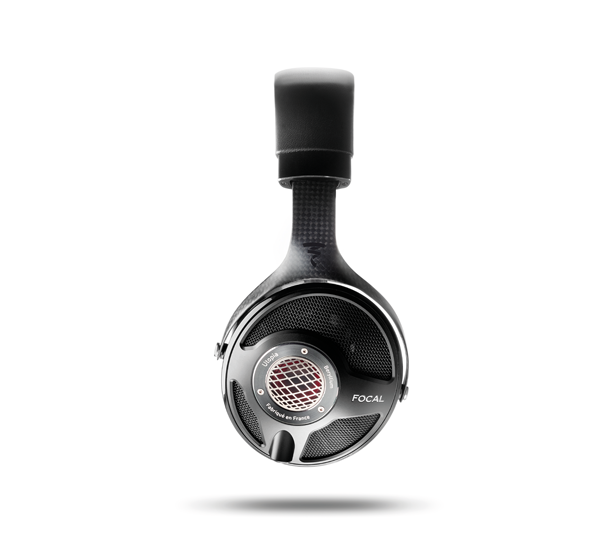 And the HA-3 II? We'll see what happens….
Meanwhile, if the budget range works for you, and you're in the market for great headphone sound, you should definitely be checking this combination out. They're splendid!
Audio HA-3 II SET Amplifier
Retail: USD$4500; on temporary sale (as of 11/21/18) at USD$3900
Utopia Headphones
Retail: USD$3999
Ayon Audio
US Distributor
USA Tube Audio
8355 E Butherus Drive
Suite 1
Scottsdale, Arizona  85260
USA & Canada:  1-800-676-1085 Ext 2
Mexico: +52-55-8525-6102
International: +1-323-657-5993
Focal
For all Focal contact information, dealers, and options (it is a large and complex company), go to https://www.focal.com/en/contact.
Images courtesy of Ayon Audio and Focal, unless otherwise noted; cartoons by Dan Zimmerman; image of the Cheshire Cat by Sir John Teniel, in the public domain.
Specifications
Tube Headphone amp
Pure Class A Triode
Ayon HA-3
Class of Operation
Pure Class A, SE-Triode
Tube Complement
2 x AA45 Mesh, 2 x 12AU7
S/N Ratio
> 100dB (unweighted)
Input Impedance
50 kΩ
Frequency Response at 32Ω
15 Hz – 35kHz
Harmonic Distortion (at 150mV )
89dB
Output Power at 32Ω
500mV
Output Impedance – Headphone
16Ω – 600Ω
Line Input
RCA phono sockets
Headphone output
¼" Stereo Jack (6.35mm)
Power Consumption
~ 65W
Dimensions Main Unit (WxDxH) cm
22x30x20 cm
Dimension Power Supply (WxDxH) cm
22x30x10 cm
Weight (Main)
10kg
Weight (Power Supply)
10kg
Ayon reserves the right to make improvements which may result in specification or feature changes without notice.