Ayon NW-T
The RS& Music Server can run Audirvana, Jriver, Roon, HQPlayer
0%

– 3 Year

Financing Available!!
Ayon Audio "The Bugatti of Audio"
The Absolute Sound Magazine Award
Ayon NW-T / DSD Vacuum Tube Network Transport
The Ayon NW-T is the only vacuum tube based, Pure Class A Network Player in production anywhere!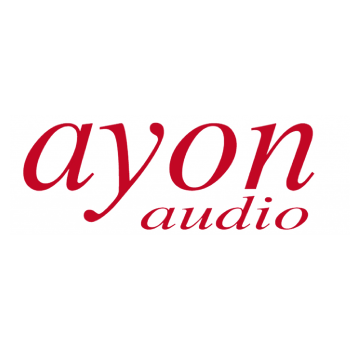 Product Description
The RS7 Music Server can run Audirvana, Jriver, Roon, HQPlayer
As an option, STREAM to this baby with the RS7 Music Server by USA Labs. Amazing sonic performance, Tidal, Qobuz, DSD & More! Get all the details, call 1-800-676-1085 Ext 2
Run ROON on any Network Player Streamer, DAC, even if your streamer or DAC is not ROON Compatible!
Intel Core i7
BUILT FOR HIGH END AUDIO
STATE OF THE ART WITH INTEL
Zero computer/network knowledge needed. Just plug it in! Plug & Play. Setup video is available & if needed our techs can & will remotely setup the RS7 for you for Free. All you have to do is connect the RS7, power it up and we will take it from there, Remotely via computer. Pretty cool right!
Do not use a computer to stream your music, computers run dozens of background programs just to keep the computer up & running. This causes unwanted, noticeable noise in the signal path.
The RS7 has no Noise, no fans, super fast instantaneous delivery, huge horsepower for large libraries, no spinning disks, no moving parts, imbedded operating system, no drivers, all solid state, runs super COOL, built for high end audio Only! Put it anywhere, Plug & Play. Solid State drive included.
Link to the RS7 Music Server
https://www.usatubeaudio.com/product/digital/cd-disc-players/rs7-roon-server-copy/
0%

– 3 Year

Financing Available!!
Ayon NW-T / DSD Vacuum Tube Network Transport
Manufactured in Austria, the brand new Ayon NW-T DSD Network Transport, with a vacuum tube digital output stage is amazing! There are no other vacuum tube based Network Transport on the market available today. Ayon has it!  Easily connect the Ayon NW-T to any DAC or CD player that has a Digital In, Nice! The Ayon NW-T is powered by the onboard tube power supply and also a vacuum tube based digital output stage, 6H14 & 6Z4 vacuum tubes.
Features & Design
Signal Path
Ayon believes in the shortest signal paths. Pure Class A operation!
Network Player
Functionality
• QVGA 3.5" TFT display
• Internet radio (vTuner)
• UPnP streaming from PC or NAS via Ethernet
• Streaming audio from USB HS (mass storage device)
° WAV (lpcm) – up to 192khz/24bit
° FLAC – up to 192khz/24bit
° AIFF – up to 192khz/24bit
° DSD – up to 128x
● Sequenced soft-start power up for extended tube life
● Warm up function
● Ultra short signal path
● Simplest direct circuit path for purest musical performance
● Minimal discrete wiring optimal signal performance
● No DC servo that degrades the signal
● Finest quality parts throughout
● 6H14 tube
● Upsampling 24bit/192kHz and on/off switchable
● Ethernet ( RJ45  )
● WIFI
● 2 x USB type "A" inputs for Memory stick or USB drives
● Digital output for PCM – S/PDIF (RCA), AES/EBU (XLR), TosLink, BNC and I2S
● Digital output for DSD –  3 x BNC
● Digital volume control

Power Supply
HD power supplies with enhanced AC line noise filtration. Separate power transformer windings, provide total isolation. Important attribute for a 6H14 output stage. Electrolytic capacitors, huge storage capacity.
● Dual R-Core  Low noise power transformers independent for the digital & vacuum tube sections
● Power supply – high energy delivery on transients
● Separate – isolated power supplies over each stage of amplification
● AC power line filter
● Tube rectification for digital output stage & power supply
● 8 independent voltage regulators

Components
Nothing but the best
● Hand selected premium components
● High speed premium quality audiophile grade capacitors
● Premium quality special tube sockets – gold pins
● Premium quality – RCA, BNC & XLR
● Gold plated PCB

Construction
Aircraft grade aluminum chassis. Elegant brushed aluminum. Anti resonance, non magnetic chassis. Hand assembled, superb craftsmanship.
● Aluminum resonance feet
● Aluminum remote control
● Chassis finish: black
Specifications
Network-Player
Ayon NW-T / DSD

Conversion rate
192kHz/24 bit & DSD64x/128x
Tube complement
6H14 & 6Z4
Dynamic range
> 120dB
Digital output – DSD
3 x BNC ( DSD-L, DSD-R, WCLK )
Digital output – PCM
S/PDIF, BNC, I2S, TosLink, AES/EBU
Digital inputs
Front mounted USB type 'A' socket for USB "pen"/hard disk drive

Rear mounted USB type 'A' socket for USB "pen"/hard disk drive

Network digital inputs
RP-SMA plug Wifi Aerial input ("wireless" network connection) 802.11b/g

UTP RJ45 10/100Mbps socket ("wired" network connection)

S/N ratio
> 120 dB
Frequency response
 10Hz – 50kHz  +/- 0.3dB
Total harmonic distortion @ 1kHz
< 0.002%
Remote control
Yes
Dimension (Wide x Deep – incl. terminals x High – incl. feet)
18.89 x 14.17 x 4.72 inches
Weight, unit only
34 lbs – Shipping weight 42 lbs.
Specifications subject to change without notice
Specifications
Network-Player
Ayon NW-T / DSD Vacuum Tube Network Player
Conversion rate
192kHz/24 bit & DSD64x/128x
Tube complement
6H14 & 6Z4
Dynamic range
> 120dB
Digital output – DSD
3 x BNC ( DSD-L, DSD-R, WCLK )
Digital output – PCM
S/PDIF, BNC, I2S, TosLink, AES/EBU
Digital inputs
Front mounted USB type 'A' socket for USB "pen"/hard disk drive
Rear mounted USB type 'A' socket for USB "pen"/hard disk drive
Network digital inputs
RP-SMA plug Wifi Aerial input ("wireless" network connection) 802.11b/g
UTP RJ45 10/100Mbps socket ("wired" network connection)
S/N ratio
> 120 dB
Frequency response
10Hz – 50kHz +/- 0.3dB
Total harmonic distortion @ 1kHz
< 0.002%Remote controlYesDimension (Wide x Deep – incl. terminals x High – incl. feet)18.89 x 14.17 x 4.72 inchesWeight, unit only34 lbs - Shipping weight 42 lbsSpecifications subject to change without notice